ZTP Support - Rapid, Efficient Set Up for Onboarding
ZTP Support - Rapid, Efficient Set Up for Onboarding
Challenge:
During mass deployments of new network elements, Network Engineers need a quick and efficient way to set up and configure multiple network elements, without the need to manually access each individual device. In order to cut time, minimize human error and ensure consistency during onboarding operations, the solution should provide a reliable automated means to simultaneously configure vast numbers of network devices in a single, coordinated operation. Ideally, the solution should work with existing infrastructure elements, without the need to invest in new hardware or firmware.
Solution:
Zero Touch Provisioning (ZTP) can be used to rapidly set up and configure large numbers of newly deployed network devices without the need to individually access and manually configure each unit. All WTI Console Server and Switched PDU products support Zero Touch Provisioning (ZTP.)
During Day Zero Onboarding, once network cables have been connected and new devices have been powered on, each ZTP compatible device will send its product information and MAC address to the DHCP server.
If the MAC address and product information are recognized, the DHCP server will then point the device to the URL for a TFTP server that hosts the appropriate configuration files, firmware updates and security patches. Devices will then download the appropriate files, install configuration files, set specified parameters, define access credentials, install updates and patches and reboot. After booting up, all new devices will have been provisioned with the needed updates, parameters and patches with absolutely no operation intervention.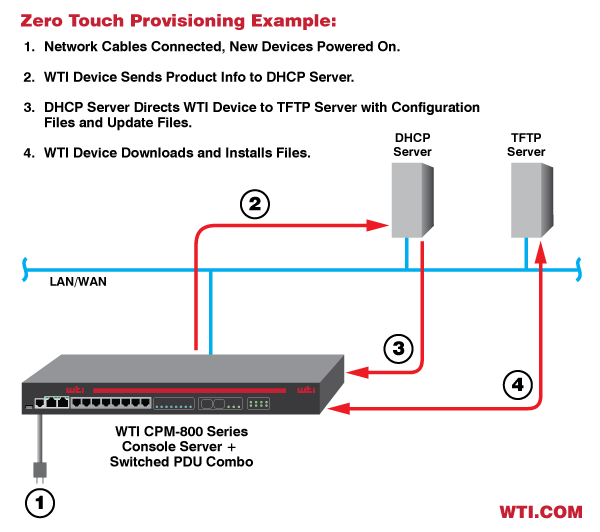 Since ZTP principally relies on a DHCP server and a TFTP server or File Server, there's no need for additional infrastructure to support the process. ZTP drastically cuts the time required to set up a rack full of devices, eliminates most human error, simplifies uniform compliance with security guidelines and helps ensure consistency of configuration across large numbers of devices.
Results:
Support for ZTP allows WTI devices to easily fit into large network installations that rely on Zero Touch Provisioning to automatically manage configuration and update activities during onboarding.
When network elements are installed and powered on, WTI devices and other newly deployed ZTP compatible devices will automatically send MAC addresses and other product information to the DHCP server. In return, the DHCP server will then assign IP addresses and point devices to the necessary files, effectively eliminating the need for network administrators to individually access each device and set it up.
This drastically reduces opportunities for human error during configuration, ensures uniformity in the set up of security protocols and other parameters and substantially cuts the time required to deploy vast numbers of elements in large enterprise networks.
For More Information:
Request a free demo
WTI products can be demo'd through any of the following options: