Cellular Failover for Dual WAN Routers Using IP Passthrough
Cellular Failover for Dual WAN Routers Using IP Passthrough
When primary connectivity to your Dual WAN Router is interrupted, Cellular Failover can provide a convenient secondary connectivity option for remote network installations and branch offices. During ISP outages, the REM Remote Edge Manager can automatically connect your dual WAN router to a secondary private LTE network, keeping your branch offices securely connected.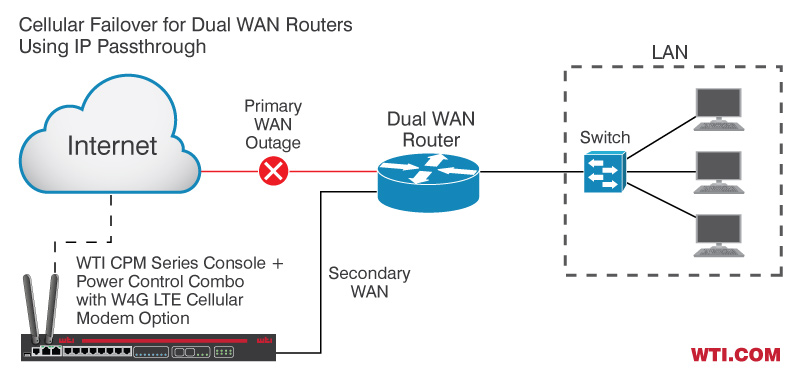 If your Dual WAN Router senses that communication via the primary WAN is down and diverts traffic to the secondary WAN port, a WTI Device connected to the secondary port can then transmit communication traffic to the Internet via the optional 4G LTE Cellular Modem. This helps to ensure reliable communication during outages, cutting downtime and loss of service without the need for a secondary ISP.
This also allows the WTI Device to serve a dual purpose. In addition to performing its normal role, providing remote access to console port command functions and power switching and reboot capabilities, a WTI Device that includes the W4G Cellular Modem Option can also serve as a means for secondary WAN communication via cellular in the event that the primary WAN connection fails or is interrupted.
WTI DSM Series Console Servers and CPM Series Console Server + Power Control Combo units are both available with the W4G LTE Cellular Modem Option with Cellular Failover capabilities. The W4G Cellular Modem Option is available for AT&T, Verizon and World cellular carriers.
Request a free demo
WTI products can be demo'd through any of the following options: