Health Care Applications – Branch Office Management
Health Care Applications – Branch Office Management
In any healthcare application, it's imperative that access to network services must be both secure and reliable. Given the sensitivity of patient information stored on medical industry networks, multiple levels of security and authentication are required in order to ensure that this data is safe from unauthorized access. As important as security is though, it's equally important that network devices in medical applications are also dependable; medical networks must be up and running and ready to perform 24 hours a day, every day of the year. WTI Out-of-Band Management solutions are specifically designed to meet these challenges by helping to ensure that IT administrators can quickly and securely deal with problems with remote network equipment in healthcare applications, without the need for expensive, time-consuming service calls, and without compromising the security of your network.
Security & Authentication - 128 Bit Encryption, User Directory with Definable Access Rights, Callback Security for Modem Communication, Invalid Access Lockout Feature, IP Address Filtering, Supports TACACS, RADIUS, LDAP, Kerberos

Reliable - Highest MTBF in the Industry, Available with Built-in ATS Capability for Power Fallback

Versatile - Cable Network Ready, plus Internal Modem for Out-of-Band Communication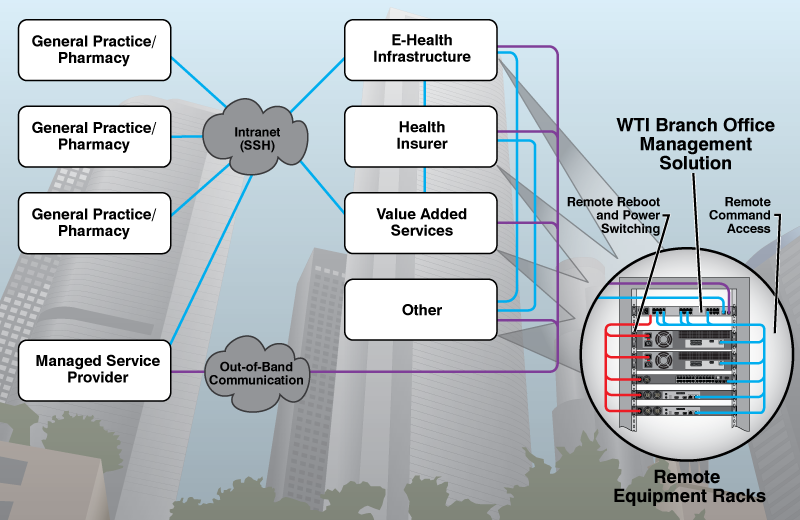 The healthcare industry probably places more demands on network equipment than almost any other application imaginable. In healthcare applications, a crashed server or a reluctant router can mean a whole lot more than a mere inconvenience or minor waste of money … it could actually be a matter of life or death. Even in cases where lives are not directly at risk, the modern healthcare industry relies heavily on patient records, case histories, insurance information and other data stored on healthcare networks, and if that information is unavailable when needed, tragedy can result.
When unresponsive network equipment interferes with access to critical patient data, a WTI Branch Office Management Solution can help to improve the reliability of E-health infrastructure, by providing network administrators with a secure, reliable means to access console port command capabilities and control power switching and reboot functions without actually travelling to the remote network site in person. The branch office management capabilities provided by WTI console servers and switched PDUs can allow healthcare network managers to quickly restore crashed network elements at off-site data centers, access diagnostic functions on remote network devices and reconfigure devices without the costs and delays associated with service calls to distant equipment racks.
In cases where a malfunctioning network element has made normal network communication with a remote data center impossible, a WTI Branch Office Management Solution can help to quickly restore network communication. When a crashed server, router or switch takes down network communication with a remote site, network administrators can establish an out-of-band connection with the WTI unit via secondary network, satellite or modem and then initiate reboot functions or reconfigure the malfunctioning element in order to restore network access. The remote management capabilities provided by a WTI console server or switched PDU can save the day by quickly reestablishing access to vital network functions when they're needed the most.
In any network application that involves sensitive customer data, security is always an important factor. WTI Branch Office Management Solutions provide state-of-the-art security and authentication capabilities to help ensure that patient data and access to critical network functions is safely protected from unauthorized access. All WTI branch office management products are FIPS-140-2 certified to provide the highest level of security available, while also ensuring that authorized users have fast, reliable access to console port functions and power reboot capabilities. Secure communication with the WTI console server or switched PDU is assured by support for protocols such as SSH and HTTPS as well as encryption formats such as FIPS and SSHv2. In order to verify the identity of each potential user, WTI branch office management solutions also support popular authentication protocols such as TACACS+, LDAP, Kerberos and RADIUS for network communication, plus callback security to protect access via modem.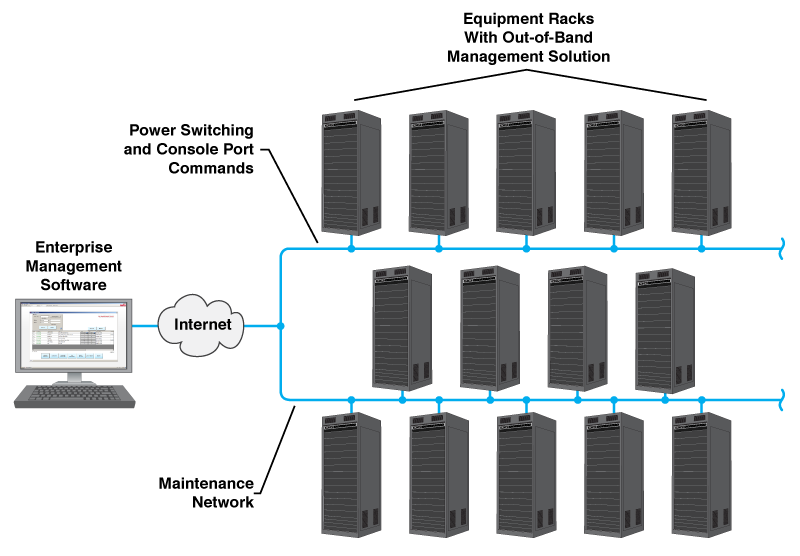 Given the size and scope of large scale healthcare networks, an effective out-of-band management solution can often involve hundreds of individual out-of-band management units spread across multiple data centers and network facilities. In order to simplify the task of locating and addressing the correct out-of-band management unit when a problem arises, an effective enterprise management solution is required. All WTI out-of-band management products ship with a convenient, user-friendly enterprise management program that can be easily installed at an administrative PC or workstation. Once installed, the enterprise management program can locate and record all compatible WTI out-of-Band management units within a user-specified range of IP addresses. After compatible units have been found and added to inventory, the enterprise management program can then be used to assign descriptive tags to each out-of-band management unit in order to identify the function or physical location of each unit. These descriptive tags speed and simplify the task of directing power reboot commands and console port commands to the desired unit and connected equipment. In addition to controlling power switching and reboot functions at multiple units, the enterprise management program can also be used to edit user accounts for multiple WTI devices and perform firmware upgrades without the need to individually address each device.
When a healthcare network is down, doctors, pharmacies and insurance providers are often temporarily cut off from essential services and information that are vital for safe, knowledgeable treatment of patients and quick access to medical records and coverage information. In cases like this, the delays and extra costs associated with sending a service team to deal with problems at the remote data center are often out of the question. WTI Branch Office Management Solutions are specifically designed to provide healthcare network administrators with immediate, reliable and secure access to console port command functions and remote power control and reboot capabilities on off-site healthcare network elements without the expenses and hold-ups of a service call.
Request a free demo
WTI products can be demo'd through any of the following options: