Energy Company Stays Online During Oilfield Power Failure
Energy Company Stays Online During Oilfield Power Failure
Challenge:
One of worlds' largest oil companies has the mission-critical task of monitoring sensors across large scale oil field deployments. The company's oil field monitoring equipment and servers must be up 24/7, so redundant power circuits are used whenever possible. The oil company has many single-power-supply network devices that must always be running. Because they are single power supply, if the UPS is taken down, they will also lose power to critical network elements.
The company was looking for a way to provide dual power to network elements and monitoring devices in case of UPS issues. Also, the NOC of the facility wanted the ability to reboot these critical devices and sensors remotely at all times.
Solution:
The company tested and approved the WTI NPS-8H20-ATS-1, which provides redundant power output, SNMP alarms, and power ON/OFF switching and monitoring to the connected devices. This combination allows the company to seamlessly switch power while being able to reboot their devices in case any issues arise. The benefits which they achieved through this deployment include:
Providing in band capabilities to remotely reboot devices
ATS (Automatic Transfer Switch) technology to provide the ability to switch seamlessly between two power sources in case of UPS maintenance or problems
Includes free WMU Enterprise Software using a web interface that provides single point of access to monitoring equipment and servers across multiple PDU units
Auto ping-no-answer per outlet to provide a constant health-check of network elements and monitoring equipment & SNMP notification to the NOC
Includes free temperature monitoring for high or low conditions with alarming via SNMP, email or text message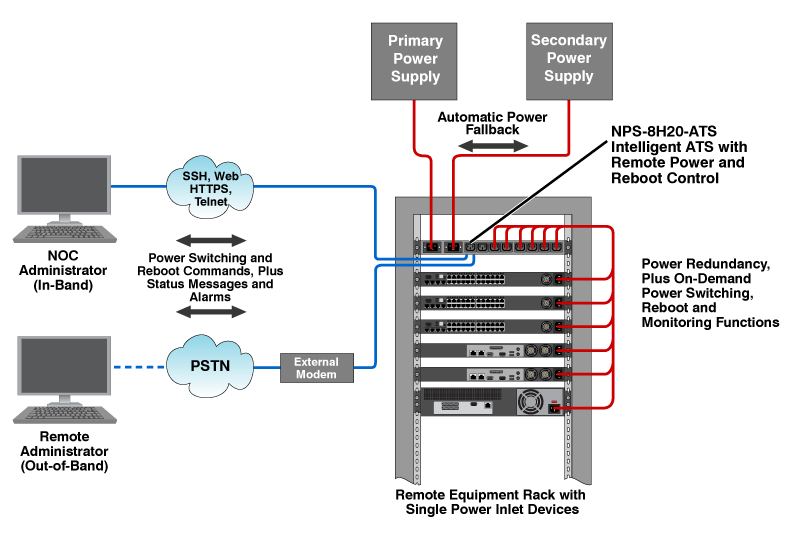 Result
By implementing the WTI NPS-8HS20-ATS-1 the oil company was able to increase the uptime and visibility of their field monitoring equipment. Also, this solution enabled the oil company to quickly realize ROI by reducing points of failure since man-hours, truck rolls, and extra equipment was not needed to meet field production goals.
Request a free demo
WTI products can be demo'd through any of the following options: