Rebooting Wireless Controllers in Healthcare Applications
Rebooting Wireless Controllers in Healthcare Applications
Challenge:
Wireless devices often play a vital role in healthcare applications. In addition to providing healthcare professionals with a simple, effective means for retrieving diagnostic data from mobile healthcare equipment such as crash carts, wearable monitoring devices and hand held medical imaging equipment, wireless communication also enables caregivers to be constantly linked to patient databases, clinics, diagnosticians and consultants.
Unfortunately, even the most reliable wireless system can be temporarily rendered useless if a wireless controller crashes and takes down one or more wireless access points. When wireless communication is lost, the flow of data from wireless patient monitors and diagnostic devices comes to an immediate halt, and to make matters worse, physicians and network support personnel might not even realize that there's a problem until a user or patient complains.
In order to minimize downtime and ensure prompt access to critical services and capabilities, network operating centers in healthcare applications need a reliable means to remotely reboot unresponsive wireless controllers to quickly restore communication and services, minimize lost data and make certain that patients are properly monitored. In addition, the solution should also support in-band and out-of-band communication to ensure that access to remote reboot capabilities is always available, even if the primary network is down.
An ideal solution should also provide a means to monitor wireless controllers and provide immediate notification if the device fails to respond, plus the solution should also support event logging functions in order to provide an audit trail to simplify the task of troubleshooting recurrent problems.
An effective solution for rebooting wireless controllers in healthcare applications should provide the following capabilities:
Remote Power Switching and Reboot Control for Wireless Controllers such as the Cisco 5508
Out-of-Band Access to Remote Reboot and Power Switching Functions
The Ability to Detect Unresponsive Wireless Controllers
Automatic Notification when Power to the Wireless Controller is Interrupted
Monitoring and Alarm Functions
Event Logging and Environmental Logging
Robust Security and Authentication Features
Single Interface for Controlling Reboot Functions for Multiple Wireless Controllers
Solution:
WTI's VMR Series Outlet Metered PDUs provide a secure, reliable means to remotely reboot wireless devices such as Cisco's 5508 Wireless Controller. When packet mix-ups and other routine snafus cause the wireless controller to crash and take down wireless communication with it, NOC personnel can quickly establish a secure in-band or out-of-band connection to the VMR and immediately reboot the wireless controller to quickly restore wireless communication.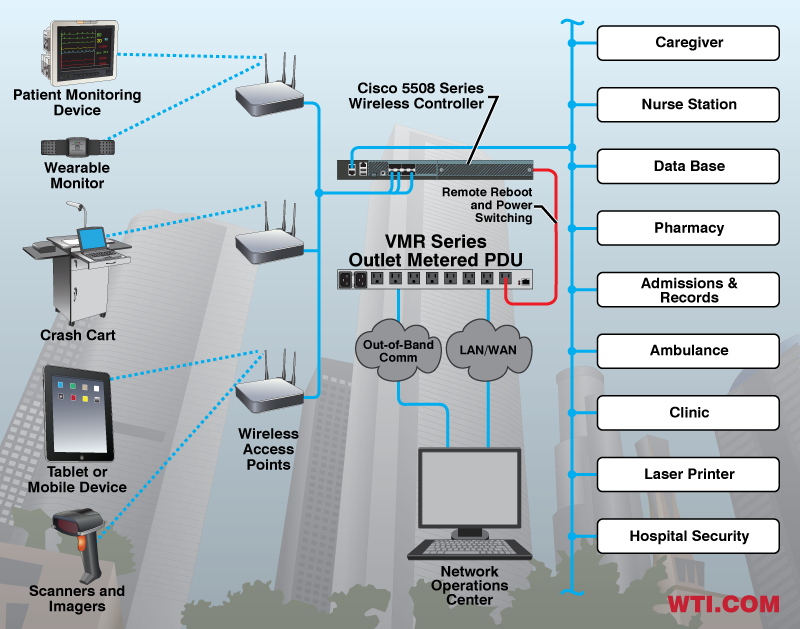 If desired, the VMR Series Outlet Metered PDU can also be configured to automatically detect and reboot unresponsive wireless routers and other devices. A unique Ping-no-Answer Reboot function enables the VMR to regularly ping devices at user-specified IP address and then automatically reboot a wireless router or other device at that address if the device fails to respond to ping commands. The Ping-No-Answer Reboot function can either be set to immediately reboot unresponsive devices, or to merely notify support personnel when a device fails to respond to a ping.
In addition to the Ping-No-Answer Reboot function, the VMR also provides other monitoring and alarm functions to help track conditions in remote equipment racks. When high temperatures, power supply interruptions, excessive invalid access attempts and other potentially troublesome conditions and events are detected, the VMR can immediately notify NOC personnel via text message, email or SNMP trap, allowing prompt response to minor issues before they can become bigger problems. All alarm events and user activities can also be logged for future review.
Given the crucial nature of healthcare applications, the VMR Series Outlet Metered PDU also supports state-of-the-art security and authentication protocols to ensure that sensitive command functions are safely protected from unauthorized access. A multi-level user directory allows administrators to set passwords, user information and access rights for up to 128 user accounts. An embedded, validated FIPS 140-2 cryptographic module plus HTTPS/SSL Secure Web protect commands and data sent to and from the VMR from unauthorized interception. The identity of each potential user can be verified using Kerberos, LDAP, TACACS+ and RADIUS authentication protocols.
The VMR Series Outlet Metered PDU is also well suited to larger applications that include the need to manage multiple wireless controllers spread throughout a sprawling network infrastructure. VMR Series Outlet Metered PDUs include WTI's WMU Enterprise Management Software, which provides administrators with a centralized interface for controlling reboot functions at diverse locations scattered across an extensive network infrastructure. In addition to providing a single control interface for reboot functions, the WMU also enables administrators to assign descriptive tags to each VMR Outlet Metered PDU, drastically simplifying the task of locating the correct VMR unit when a specific wireless controller needs to be rebooted. The WMU provides support personnel with a convenient means for updating firmware for WTI multiple devices via a single command and also serves as a collection point for alarm messages generated by multiple WTI devices.
When a wireless controller such as Cisco's 5508 suddenly locks up and ceases to respond, WTI's VMR Series Outlet Metered PDUs provide an ideal solution for rebooting the unresponsive device, cutting the time required to deal with communications problems, minimizing downtime and restoring critical services and capabilities.
Reboot Unresponsive Wireless Controllers Automatically or On-Demand
Accessible via Both In-Band and Out-of-Band Avenues
Automatically Detect Unresponsive Devices
Automatically Detect Power Supply Interruptions
Generate Alarms when Equipment Conditions Exceed User-Defined Trigger Levels
Log Commands, Alarm Events and User Activity
Command Access Protected by State of the Art Security and Authentication Protocols
Enterprise Management Solution Simplifies Operation in Large Scale Applications
Results:
In addition to providing a secure, reliable means to reboot devices such as Cisco's 5508 wireless controllers in order to restore communication capabilities, WTI's VMR Series Outlet Metered PDUs also help to further minimize system downtime by notifying NOC personnel when unresponsive devices, high temperatures, power supply irregularities and other events potentially threaten to disrupt wireless communication in healthcare applications. The VMR helps to ensure that vital wireless services and capabilities are available when needed by furnishing network support personnel with a versatile tool for both dealing with unresponsive wireless controllers and monitoring conditions in remote equipment racks and network closets.
Request a free demo
WTI products can be demo'd through any of the following options: