Using the WTI DSM as a Console Access Alternative
Cisco 2509 Replacement - Using the WTI DSM as a Console Access Alternative
Replacement of Cisco 2509 routers is actually a lot easier than it might seem at first glance. Although the venerable 2509 was discontinued in 2004, the WTI DSM Console Server can provide an ideal alternative solution for remote console access.
While Cisco 2509 and 2511 units continue to provide a viable console access solution in small, home lab applications, their use in larger, corporate network applications has waned over recent years. The reason for this is hard to ignore; since discontinuation, network engineers have had an increasingly difficult time getting their hands on used 2509 and 2511 units … especially in the quantities needed for large scale network management applications. While used 2500 units can generally be found here and there, it can take time and patience to find enough 2509 or 2511 units to meet the needs of larger projects. To further complicate the matter, technical support and firmware upgrades are no longer available for the 2500 series.
As a result of the scarcity of used Cisco 2509 and 2511 units, many network engineers have turned to WTI's DSM series console servers when faced with the dilemma of implementing a large scale console access solution. In order to provide a drop-in replacement solution for 2500 series units, DSM series serial ports that are pinned exactly the same as a Cisco serial port. In addition to enabling secure, reliable access to remote console ports, the DSM series is also readily available in large quantities, fully supported, regularly updated and include an impressive array of security, alarm and monitoring functions not found in the humble 2500 series.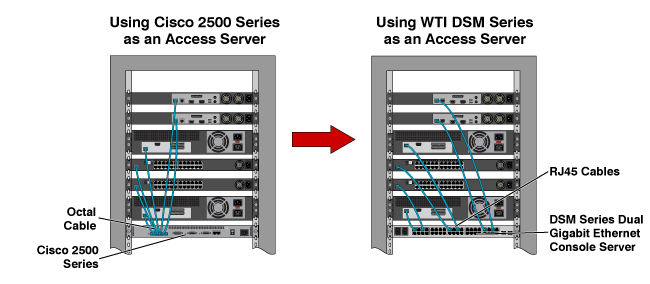 Cisco 2509
Discontinued Product (EOL)
No Longer Supported
Requires AUI to Ethernet Adapter
Requires Proprietary Octal Cable
DSM Access Server
8, 24 and 40-Port Access Servers
Readily Available
Full Support
Economical RJ45 Cables
Dual 10/100/1000Base-T Ethernet Ports
SNMP & IP Control & Configuration
Alarm & Monitoring Functions
Authentication & Security
Both AC and DC Versions Available
Five Year Warranty
Free Firmware Updates
In spite of the fact that the DSM is a full featured, up-to-date console access server, the DSM actually offers a considerable price advantage over used 2500 series routers. DSM units are available in 8-port, 24-port and 40-port configurations, allowing a single DSM-40 series unit to provide access to five times as many devices as an 8-port 2509 or over twice as many devices as a 16-port 2511. In addition, the DSM uses inexpensive, readily available RJ45 cables for physical connection to target devices; a drastic improvement over the clumsy, easily tangled octal cables used with the old 2509 and 2511 units. The DSM also includes RJ45 10/100/1000Base-T Ethernet ports, rather than the AUI style connectors found on 2500 series units. This eliminates the need for an AUI to Ethernet adapter in order to connect an Ethernet cable to a 2500 series unit.
Although the 2500 series did a fine job of providing remote console port access, it was originally designed as a multi-purpose router/hub and therefore lacked many of the capabilities provided by a true console server product. Since the DSM is a dedicated console access server, specifically designed for the task of providing remote access to console port command functions, the DSM also offers many additional features that help to simplify remote console access and management. Features such as event and environmental monitoring and alarm capabilities, advanced security and authentication, dual power supplies with built in ATS, dual 10/100/1000Base-T Ethernet ports and SNMP control, monitoring and configuration help the DSM to streamline communication with connected devices and add management capabilities that aren't available on 2509 and 2511 units.
In addition to a price advantage and a comprehensive feature set, the DSM also includes a five year warranty, free firmware updates and comprehensive technical support. DSM units are available in 8-port, 24-port and 40-port configurations as well as both AC and DC powered models as described in the table below.
Cisco 2500 Product
WTI DSM Series Replacement Product
Cisco 2509
DSM-8 - 8-Port Console Server
Cisco 2509-DC
DSM-8DC - 8-Port, DC Powered Console Server
Cisco 2509-CH
DSM-8 - 8-Port Console Server
Cisco 2509-ET
DSM-8 - 8-Port Console Server
Cisco 2511
DSM-24 - 24 Port Console Server
DSM-24-E - 24-Port Console Server w/ Dual Power Supplies & Dual Ethernet Ports
DSM-40 - 40-Port Console Server
DSM-40-E - 40-Port Console Server w/ Dual Power Supplies & Dual Ethernet Ports
Cisco 2511-DC
DSM-24DC - 24-Port DC Powered Console Server
DSM-40DC – 40 Port DC Powered Console Server
Cisco 2511-CH
DSM-24 - 24 Port Console Server
DSM-24-E - 24-Port Console Server w/ Dual Power Supplies & Dual Ethernet Ports
DSM-40 - 40-Port Console Server
DSM-40-E - 40-Port Console Server w/ Dual Power Supplies & Dual Ethernet Ports
Request a free demo
WTI products can be demo'd through any of the following options: