Repetitive Reboot Testing via Python Script
Repetitive Reboot Testing via Python Script
In repetitive power reboot regression test applications, Python script offers a reliable means to automate the test procedure and eliminate the need for constant human oversight of power on off testing. The most difficult aspect of implementing a Python script driven power reboot regression test application is often the challenge of finding a suitable switched PDU product that supports Python script. If you're in the process of seeking out a switched PDU that's compatible with Python script, WTI's VMR-16HD20 Outlet Metered PDUs can provide the perfect solution.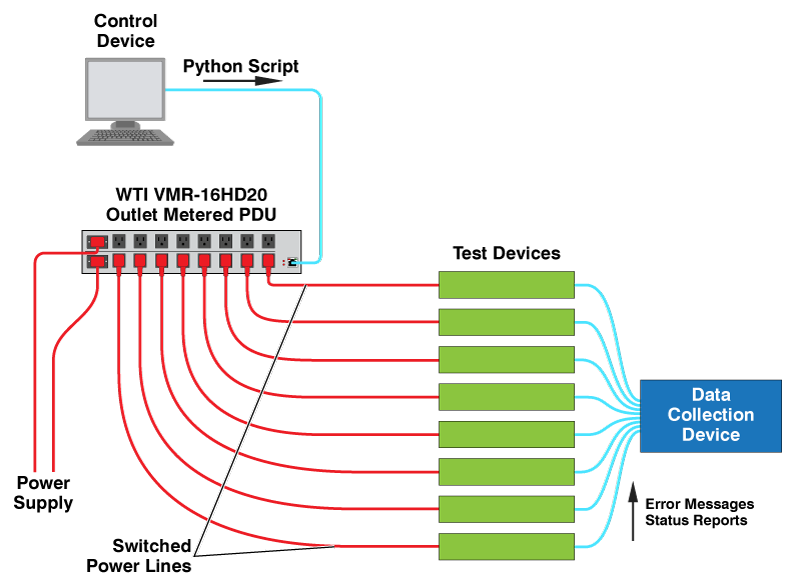 In order to use Python script to initiate and drive the repetitive power reboot test procedure, the device being tested is typically connected to a Python compatible switched PDU such as the VMR-16HD20 and a data collection device is then connected to the console port or setup port on the device being tested. Once connected, Python scripts can then be issued to the VMR in order to switch power On or Off or initiate a reboot cycle. Each time that power to the unit is restored, the data collection device captures any status reports or error messages that may have been generated. These error messages and status reports can then be used by product development engineers to detect possible hardware problems and software bugs that need to be resolve before the product is released.
In addition to supporting Python script, the VMR-16HD20 also provides a number of other features that make it particularly well suited for Python script driven repetitive reboot testing. The VMR's outlet power metering capabilities allow test engineers to quickly detect test devices that have ceased to draw power and may have experienced a power supply failure. Likewise, outlet power metering capabilities also enable the VMR to detect test devices that are drawing more current than would normally be expected. A ping response monitor feature allows the VMR to provide notification when a test device has ceased to respond to ping commands; allowing test operators to quickly spot devices that have crashed or failed during the process of repetitive reboot testing.
In cases where remote SSH or Web communication with the switched PDU is required, the VMR-16HD20 also includes a formidable assortment of security and authentication features to ensure that command and configuration functions are only available to authorized users.
For more information, please contact the WTI Sales Team.
Request a free demo
WTI products can be demo'd through any of the following options: