Remote Power Management and Console Access Solutions for Oil Tanker Applications
Remote Power Management and Console Access Solutions for Oil Tanker Applications
Challenge:
When an important network element on a distant oil tanker suddenly locks up or fails, support personnel need a means to correct the trouble promptly, before larger more detrimental issues result. If an unresponsive firewall or router interferes with access to vital safety equipment, navigation or inventory tracking capabilities, the problem needs to be corrected as quickly as possible in order to minimize downtime and ensure that important network devices and services are available when needed. In cases like this, it isn't practical (or sometimes, even possible) to wait for a service team to arrive on site to correct the problem.
In cases where unresponsive network elements interfere with access to vital network based services and capabilities on oil tankers, support personnel need a fast, effective means to correct the problem without the delays of waiting for a tech team to arrive on site or the hassles of a trek to the other end of the ship to root through an equipment enclosure. Both onboard and shore-based administrators need a quick, reliable solution for restoring network communication on oil tankers before safety is compromised or the problem interferes with the progress of the ship.
In order to effectively deal with network problems on oil tankers, tech support personnel need a solution that will provide support personnel with the following capabilities:
Reboot Remote Network Elements
Access Console Port Command Functions on Remote Devices
Enable Power Redundancy for Single Corded Equipment
Provide Secure Remote Access via Network plus Dial-Up, Satellite and Cable Modem
Allow Out-of-Band Access when Primary Network is Down
Monitor, Report and Log Conditions and Events at Remote Site
Provide Centralized Enterprise Management Interface
Solution: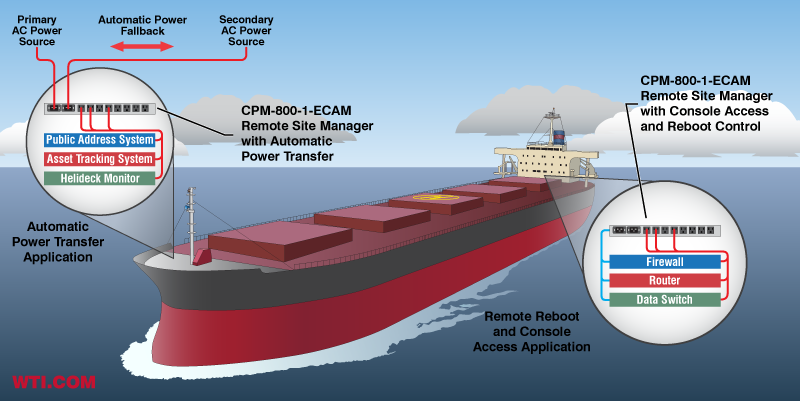 In the out-of-band management application example shown in the graphic above, WTI's CPM-800-1-ECAM Remote Site Manager is used to provide secure access to remote reboot control and console port command functions, plus the CPM-800-1-ECAM also provides power supply redundancy for single-corded on-board devices.
A CPM-800-1-ECAM unit deployed in an equipment rack on the tanker's bridge allows on-shore or shipboard support personnel to reboot unresponsive network elements or access console port command functions on vital network devices. Remote reboot and power switching capabilities allow tech support to restart crashed devices or switch various network elements and support equipment On or Off, while remote console access provides a means to run diagnostic routines or change configuration parameters in order to restore communication. This proves equally useful for both local and remote technicians by providing quick access to networked devices and a centralized management interface that can be used to reboot or access multiple networked elements spread throughout the ship. Shipboard personnel can communicate with the CPM-800-1-ECAM via LAN, while on-shore personnel communicate with the unit via broadband satellite.
Since the CPM-800-1-ECAM includes dual power inlets plus a built-in automatic transfer switch, the Remote Site Manager also lends itself to power redundancy applications. These capabilities can be used to provide reliable power fallback for single corded devices such as helideck monitors, asset tracking systems and public address systems.
Access to CPM-800-1-ECAM command functions is protected by state of the art security and authentication features, plus encrypted communication and an IP address filter. The Remote Site Manager's monitoring and alarm functions also prove very useful in shipboard applications by allowing bridge personnel to keep tabs on conditions in network equipment enclosures throughout the ship without the need to physically check each enclosure.
Results:
The remote, out-of-band management capabilities and power fallback functions provided by the CPM-800-1-ECAM are the perfect fit for managing network elements and tanker communications systems in oil tanker applications. In any petroleum industry operation that requires management and maintenance of network devices at far-flung locations, the CPM-800-1-ECAM can provide administrators with a valuable tool for both keeping tabs on conditions at the remote site and for dealing with emergencies immediately as they arise.
In larger network deployments that require more than the 8 switched outlets and 8 RJ45 console ports provided by the CPM-800-1-ECAM Remote Site Manager, WTI's TSM series console servers, VMR series metered switched PDUs, NPS series switched PDUs, NBB series vertical format switched PDUs and PTS series power transfer switches can provide a perfect solution. In cases that require remote access to more than eight console ports, WTI's TSM series console servers can provide secure, out-of-band communication for up to 40 console ports. Likewise, in applications that exceed the power switching and reboot capabilities supplied by the CPM-800-1-ECAM, WTI's VMR, NPS or NBB series switched PDUs can provide up to 20 remotely switched outlets. For larger power failover applications, our PTS series Automatic Transfer Switches can provide power redundancy for up to 14 single corded devices.
Request a free demo
WTI products can be demo'd through any of the following options: