financial dual ethernet console server
Secure Out-of-Band Console Access via Dual Ethernet For Financial Applications
Challenge:
One of the largest North American credit card companies has data centers across the world that house a large installed base of 10G firewalls, IDS sensors, load balancers and routers that support its day-to-day security operations activities. The credit card company has a requirement to be able to securely manage these devices out of band when the primary network path is unavailable.
The NOC team wanted to implement the latest security protocols, logging capability and connectivity options for both in-band and out-of-band management appliances. The company also wanted the console server to have dual Ethernet ports , simultaneous log-in, radius security authentication, event logging and alarming, and enterprise management software to manage all of their out-of-band management equipment through a single portal.
Solution:
The credit card company tested and approved the WTI DSM-40NM-E Dual Gigabit Ethernet console server which combines serial-based console management with remote IP administration via SSH or web-to-CLI using WTI centralized management software. The unit that was specified for deployment allowed the NOC team to:
Provide both in and out of band access using Dual Gigabit Ethernet access capabilities
Increase security to network elements by authenticating & logging user access and automatically generating audit logs and alarms
Allow select users to have simultaneous access via Ethernet and administrator "View Port" rights on all connected console ports
Use centralized management software that provided a single point of access to all network elements
Lower total cost of ownership below competing console servers & out of band solutions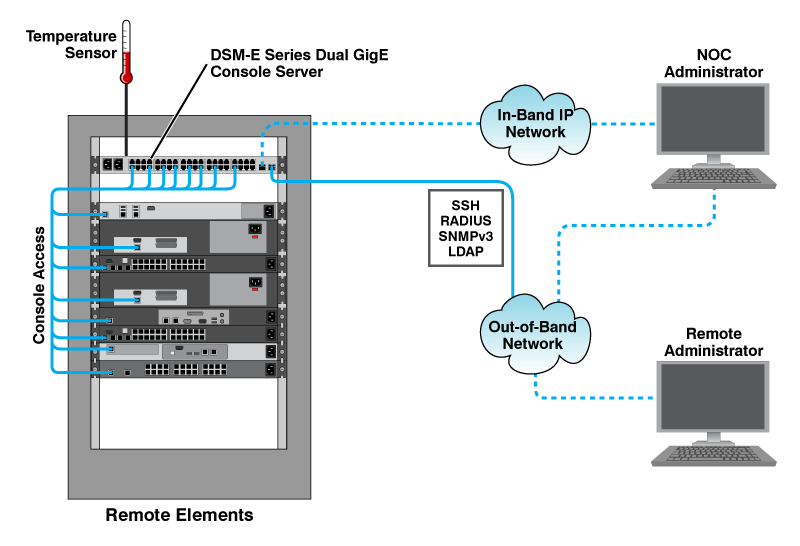 Result
The WTI DSM-40NM-E met the credit card company needs for out-of-band management by offering a user friendly solution, high functionality and valuable feature sets unmatched in any other console server. The credit card company is now able to cost effectively provide secure remote out-of-band console access to its network elements from anywhere in the world.
Request a free demo
WTI products can be demo'd through any of the following options: