CEO Site Tours - Miami 911 (Central Office Tour)
CEO Site Tours - Miami 911 (Central Office Tour)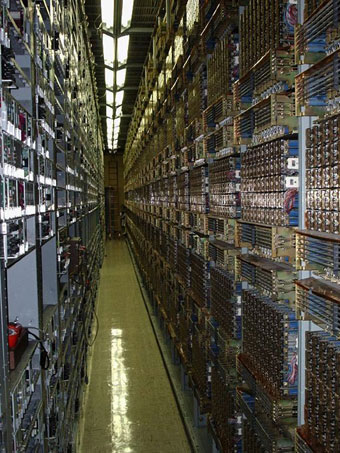 WTI's console server products are often used in -48VDC powered central office applications. Historically, these products have often been used by the Telco industry for communication with network elements via console or craft ports. In addition to our console server products, WTI also manufactures a line of dial-up, rack mount, -48VDC powered modems which are also ideal for central office applications.
Recently, I had an opportunity to visit a facility in Miami, FL where WTI products are used to communicate with network control equipment located at the central office. The engineers at this site were very helpful, and also provided me with a full tour, which included each step of their communication process; from DS0 (dial-up lines in their service area,) through the multiplex stages, clear up to the fiber rings which connect this central office with the rest of the world.
The WTI products used in this application included our 8-port console server and our NEBS approved dial-up modem. This arrangement allows technicians at the company central NOC to be able to control specific network gear via dial-up (out-of-band) or via SSH (in-band) sessions. Since different network elements at the central office are controlled by different engineering groups within the company, the WTI console server allows remote groups to control and monitor their equipment at the central NOC without bothering the on-site technicians or physically traveling to the NOC.
About WTI
WTI is a California based company which designs and manufactures serial console servers and power reboot switches. WTI units are deployed in wide area networks in several industry sectors and serve multiple mission critical applications. WTI is committed to the continual technological evolution of remote power management tools to help the network administrator save time and money by keeping devices up and running 24/7/365.
Request a free demo
WTI products can be demo'd through any of the following options: