The Intelligent ATS - Power Redundancy AND Remote Power Control
The Intelligent ATS - Power Redundancy AND Remote Power Control
In any mission critical network application, network devices that only include a single power inlet can pose a real dilemma for a network administrator who needs to implement a reliable power redundancy strategy. Obviously, those single inlet devices don't include power fallback capabilities themselves, so the only way to ensure that network services will be available during a power outage is to either replace existing network devices with brand new, budget-busting, dual power inlet routers, switches or servers, or install an ATS solution to provide power redundancy to your single inlet devices.
Although an ATS will effectively solve power redundancy challenges presented by single power inlet network elements, an ATS will also take up valuable rack space; a factor that might not be important in a larger equipment rack where there's plenty of extra room, but will definitely cramp your style if you're dealing with a smaller equipment rack, where rack space is scarce.
With this in mind, it quickly becomes apparent that when implementing an ATS power redundancy solution in a smaller equipment rack, it makes sense to look for a power fallback solution that does more than merely automatically switching to a back-up power supply; as long as you're going to sacrifice that last empty rack slot in the name of power redundancy anyway, you might as well get as much functionality out of your ATS solution as possible.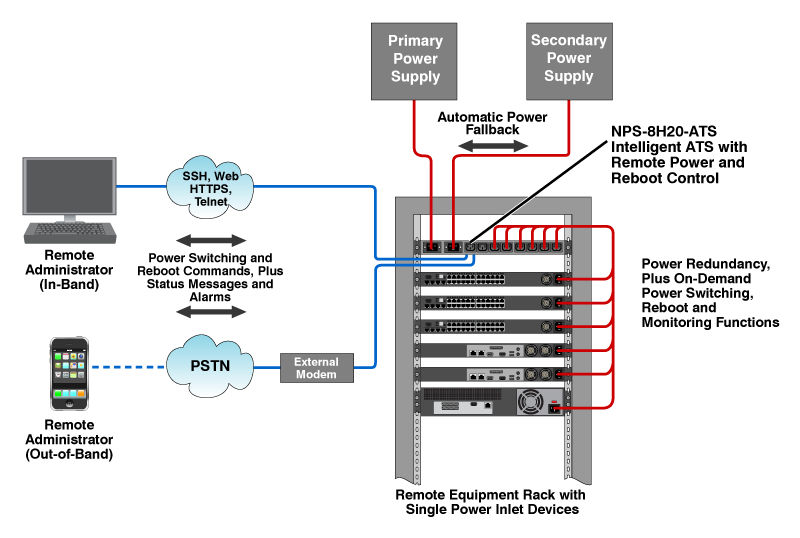 WTI's new NPS-8H20-ATS Series Intelligent ATS helps administrators to squeeze more value out of scarce rack space by providing a power redundancy solution that also includes remote reboot and power switching capabilities as well as advanced monitoring and alarm functions … all in a single, compact, 1U rack-mounted device.
When the NPS-8H20-ATS Series Intelligent ATS is on the job, not only will you be ensured of a reliable power fallback solution that can rapidly switch to back up power source when needed, but you'll also have remote reboot and power switching capabilities, plus the ability to set up alarms to monitor factors such as high rack temperatures, lost voltage, unresponsive network elements and other conditions and events in the remote rack.
In order to help administrators keep tabs on conditions and events at remote network equipment sites, the NPS Intelligent ATS supports a versatile assortment of alarm and monitoring functions. Each alarm/monitoring function can be easily configured to set-up trigger values for rack temperatures, ping response, voltage interruptions and other factors and to select a notification method to be used when the NPS detects that conditions have exceeded user-defined threshold values. When an alarm is generated, the NPS Intelligent ATS can provide notification via email, SNMP trap or SYSLOG message, or if desired, the NPS can automatically switch user-specified outlets on or off in order to activate cooling equipment or decrease power load.
In addition to alarm and monitoring functions, the NPS Intelligent ATS also includes powerful logging features that can be used to record and time-stamp alarm events, rack temperatures, command activity and user access. Data from the Intelligent ATS's activity log, alarm log and temperature log can prove to be extremely useful when diagnosing unusual events at the remote network equipment sites or in detecting temperature trends and other factors, enabling administrators to take a more proactive approach to network management, and address potential problems before they interfere with network services.
The NPS Series Intelligent ATS also includes a formidable array of security and authentication functions to protect access to configuration and command functions. Features such as password security, an IP Address filter, callback security, plus support for authentication protocols such as LDAP, TACACS+ and Radius all work together to provide an extremely secure command environment; a must for any mission critical network element.
If you're faced with the challenge of implementing a power redundancy solution for network applications that include existing single power inlet devices, WTI's NPS-8H20-ATS Series Intelligent ATS units can get the job done without the expenses and hassles associated with replacing those existing single power outlet devices with new dual inlet devices. The NPS-8H20-ATS intelligent ATS also goes a step further than other ATS units by adding power management, environmental monitoring and event monitoring to create an ideal solution for any network application where rack space is critical and each device in the rack must provide maximum functionality.
Request a free demo
WTI products can be demo'd through any of the following options: