Technology Partners
Technology Partners
WTI is proud to establish relationships with industry leading companies. In our quest to provide reliable console access & power management to your critical network equipment, we work hard to integrate WTI products with other high quality hardware and software solutions.

Cisco® Systems
Cisco is the worldwide leader in networking that transforms how people connect, communicate and collaborate. Information about Cisco and WTI development partnership can be found at www.cisco.com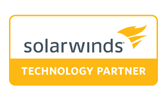 SolarWinds, Inc.
SolarWinds provides powerful, simple and affordable network management software.

RedHat
RedHat is a leading provider of open source, enterprise IT solutions.

Ansible
Ansible is a powerful automation engine that makes systems and applications simple to deploy. No custom scripting or custom code. No agents. All using an automation language that's easy for anyone to understand and learn. WTI has contributed several modules and lookup plugins to the Ansible project which monitor, configure and control WTI devices within the Ansible environment.

Nagios®
Nagios provides enterprise-class Open Source IT monitoring, network monitoring, server and applications monitoring.
Request a free demo
WTI products can be demo'd through any of the following options: