Out-of-Band Rescue™ Over 4G LTE Cellular
Out-of-Band Rescue™ Over 4G LTE Cellular
Revive Network Services Over Cellular!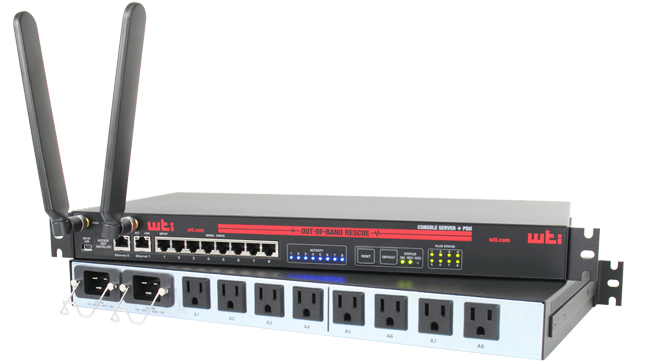 Add 4G LTE Service to...
SSH via Cellular - Quickly access multiple console and maintenance ports on all your remote network infrastructure. Easily initiate out-of-band console sessions when your wired LAN fails.
Reboot via Cellular - The worlds first complete Out-of-Band Rescue™ solution with 4G capabilities, the CPM series combines everything needed for true branch office management. This hybrid combines our advanced console server solution with our network grade PDU into a single unit to give out-of-band secure shell access and power control to mission-critical network gear over dual ethernet and cellular.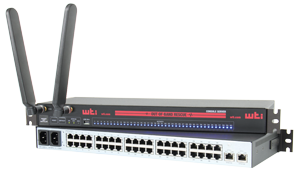 4G LTE for DSM Series Console Servers
Add-On Part Number
Carrier
W4G-VZW-DSM8
Verizon
W4G-ATT-DSM8
AT&T
W4G-VZW-DSM24
Verizon
W4G-ATT-DSM24
AT&T
W4G-VZW-DSM40
Verizon
W4G-ATT-DSM40
AT&T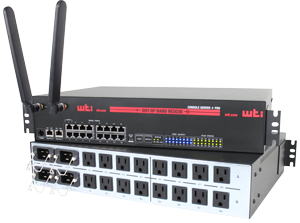 4G LTE for CPM Series Console Server + PDUs
Add-On Part Number
Carrier
W4G-VZW-CPM8
Verizon
W4G-ATT-DSM8
AT&T
W4G-VZW-CPM16
Verizon
W4G-ATT-DSM16
AT&T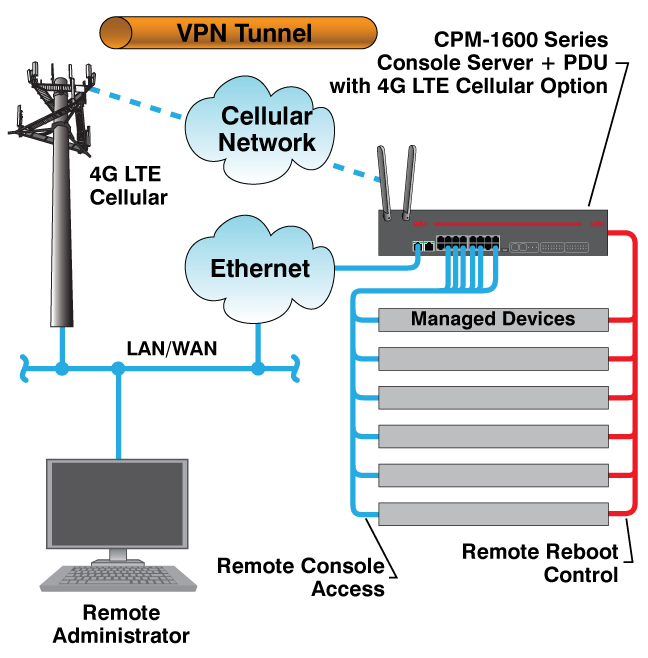 The Out-of-Band Rescue™ Difference
All WTI OOB Rescue™ products are built with our updated 3rd generation processor engine for lightning fast response time during your most critical network emergencies.
In addition, each OOB Rescue™ product supports the latest security protocols and encryption ciphers to keep sessions secure and compliance up-to-date.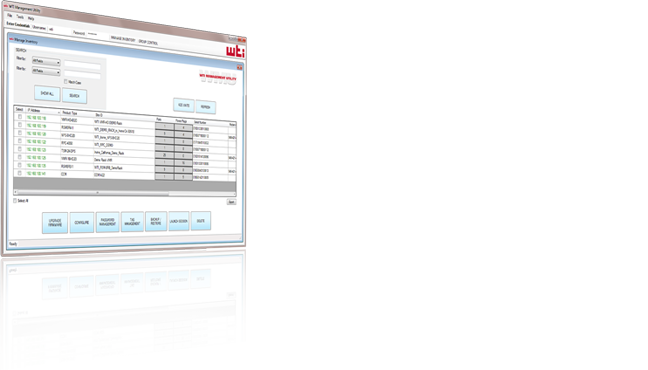 OOB Centralized Management...Even Over 4G LTE WAN!
Our WMU software provides fast and easy management of all WTI devices on your LAN/WAN via a single, centralized control interface … even over cellular WAN. You can connect directly to power control features and console CLI of your critical infrastructure over 4G LTE without logging directly into third-party cellular modems/routers.
Fast, Easy SSH and Dial-Up Connection to Remote Network Equipment
Launch Web & SSH Sessions via LAN/WAN, Dial-Up or 4G LTE Cellular with a Single Click!
Quickly Reboot Routers And Other Network Gear
Access Console Port Functions on Remote Devices
Update and Manage Usernames and Passwords
Manage Firmware Updates for Multiple WTI Devices
Create Device Groups and Outlet Groups
Identify & Manage Outlet Groups, Device Groups, Individual Units & Ports
*The WMU installs easily on your server, virtual server, laptop or PC and is compatible with Windows XP, Windows Server 2003, Microsoft .Net Framework 3.5 & above
3-in-1 Remote Management Solution
WTI's CPM Series combine secure console management with remote power control and automatic power transfer switch redundancy to give system administrators a single network saving tool.
Reboot unresponsive routers, then console in to watch the boot sequence
Automatically ping connected devices and send alarms, traps or reboot when they fail
Provide backup power redundancy to single cord devices
Includes enterprise management software for global deployments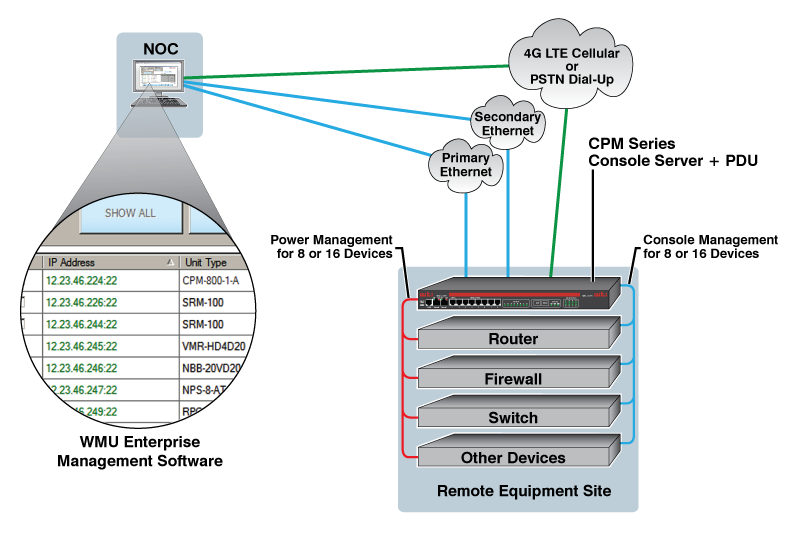 Designed & Manufactured in CA, USA!
Power Control & Management:
120V AC and 240V AC Models
Dual or Quad 20 Amp Fallback Power Supplies
Optional Asynchronous Automatic Transfer Switching (ATS)
On / Off / Reboot / Default / Load Shed Switching
Outlet Sequencing & Power Up Delays
Scheduled Outlet Switching / Reboot
Ping Watchdog with Auto Reboot
(8) or (16) Switchable NEMA 5-15R or IEC C13 Outlets
100-125V and 240V AC Models
Serial Console Port Management:
(8) or (16) RS232 RJ45 Serial Ports
SSH / Telnet / Raw-Socket TCP Connection
Break Command Blocking
Reverse/Outbound SSH
Non-Connect Port Buffering
Accessibility:
In-Band (Dual 10/100/1000Base-T Ethernet Ports)
Optional Dual Ethernet Ports with Fallback Capabilities
Out-of-Band (Optional Internal Dial-Up Modem or 4G LTE Cellular)
Local Access (RJ45 RS232 & USB Mini Set-up Ports)
Multi-Level Subscriber Directory with Outlet-Specific Password Protection
Supports Both IPv4 and IPv6
Security & Authentication:
HTTPS, SSHv2, SNMPv3
Transport Layer Security (TLS) v1.2
IPSec / OpenVPN
IPtables
Two-Factor Authentication: RSA® Ready
AAA: LDAP / Active Directory / Kerberos / RADIUS / TACACS+
Port & Plug Specific Password Protection
Invalid Access Lockout & Alarm
Monitoring / Alarms / Reporting:
Over-Temperature Alarms
Lost Communication Alarm
Ping-No-Answer Alarm (Failed Ping Command)
Invalid Access Lockout and Alarm (IP Filtering)
Power Cycle Alarm and Lost Voltage Alarm
Buffer Threshold Alarm, Time Stamp Port Buffering
No Dialtone Alarm
Alarm Notification via Email, SNMP, SYSLOG
Event and Status Logging Capabilities
Optional Current Metering Capabilities
Optional Over-Current Alarm Capabilities
Unit Management:
RESTful Web Services API
DHCP / FTP / TFTP / SFTP / SCP
CLI & Web-Based GUI
Multiple Concurrent SSHv2 Sessions
Full MIB Support
NTP for True Server Sync
Request a free demo
WTI products can be demo'd through any of the following options: