Oil & Gas Industry - Remote Management Application
Oil & Gas Industry - Remote Management Application
When a vital network element on a remote oil platform suddenly refuses to cooperate, you can't afford to wait for your tech support team to travel to the platform to take care of the problem … you need your network communication back now! WTI Remote Management Solutions help you to take care of most network problems at remote network equipment sites without even leaving the office, and without waiting for support personal to arrive. Rather than physically traveling to the remote site, WTI Console Servers and Switched PDUs allow you diagnose and address problems via satellite modem or cable; reboot crashed network devices, access command functions and change configuration parameters securely and remotely, without the wait or expense of a service call.
Perfect for Remote Applications - Iridium Satellite Modem plus Network Compatible

Security & Authentication - 128 Bit Encryption, User Directory with Definable Access Rights, Callback Security for Modem Communication, Invalid Access Lockout Feature, IP Address Filtering, Supports TACACS, RADIUS, LDAP, Kerberos

Reliable - Highest MTBF in the Industry, Available with Built-in ATS Capability for Power Fallback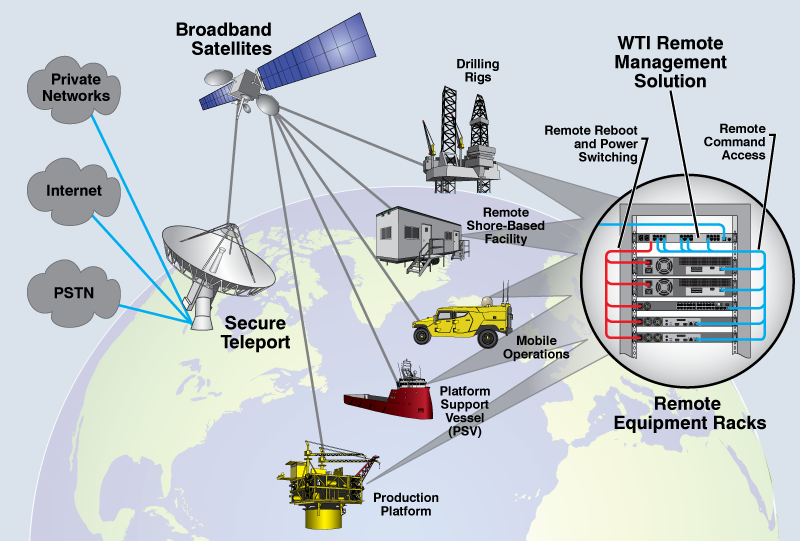 In the oil industry, a reliable remote management solution can often spell the difference between a profitable day, and an absolute disaster. When a vital network element located on a distant drilling rig, production platform or platform support vessel suddenly shuts down or crashes, there just isn't time to wait for tech support personnel to arrive on-site and take care of the problem; network problems in Oil industry applications need a solution NOW. Problems with network equipment at remote shore-based facilities or distant drilling rigs aren't just costly in terms of slowed production and lost opportunities; they can also be downright dangerous for your tech support team … especially in cases where the trip to the remote facility entails travel over rough seas or frozen wastelands, or encounters with unfriendly wildlife.
In oil and gas industry applications, WTI console server and switched PDU products can provide network administrators with a quick, economical and safe way to deal with problems at remote production sites without even leaving the office. Administrators can employ the remote management capabilities provided by WTI devices to reconfigure distant network elements, run diagnostic routines and reboot unresponsive devices without the delays and dangers of a long trek over arctic tundra or a cold, bumpy boat ride to remote drilling or production facilities. Rather than jumping into the jeep or lining up for the next boat to the drilling rig, network administrators can use WTI console servers and switched PDUs to quickly access command functions on remote routers, servers and switches or reboot crashed devices at the click of a mouse.
Obviously, security is an important concern in any remote network management application, and this is especially true in the oil and gas industry where unsecured network devices can potentially result in costly downtime and environmental mishaps. All WTI remote management products are FIPS-140-2 certified to provide the highest level of security available, while also allowing quick, easy access for authorized users. In addition, WTI remote management products also support secure communication protocols such as SSH and HTTPS as well as encryption formats such as FIPS and SSHv2 to ensure that data sent to and from the WTI unit remains protected from interception by unauthorized users. In order to verify the identity of each potential user, WTI products also feature popular authentication protocols, such as TACACS+, LDAP, Kerberos and RADIUS and a callback security feature to protect access via modem.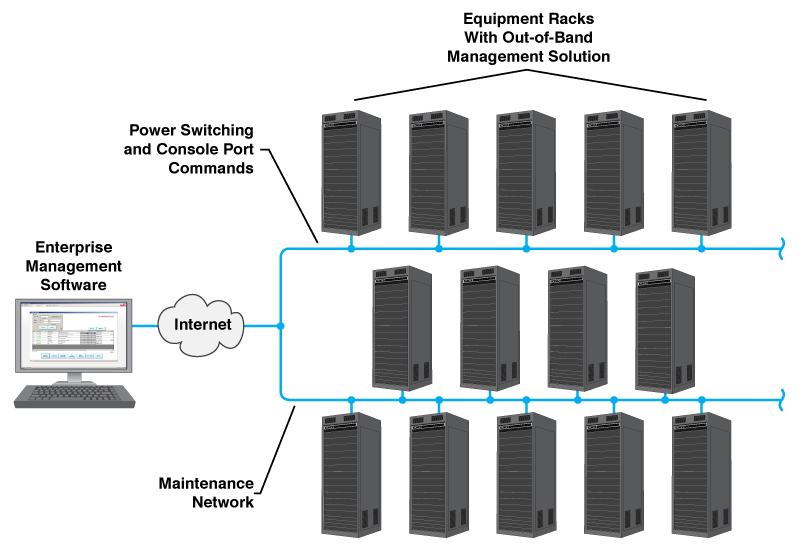 In large scale network applications, an effective out-of-band management solution will often involve hundreds of individual out-of-band management units installed in many different equipment racks that might be spread across multiple data centers and network equipment facilities. Given the large number of out-of-band management units involved and the far flung nature of this type of application, administrators need a means to quickly locate specific out-of-band management units when a problem arises in a given equipment rack. In order to simplify the process of finding the desired out-of-band management unit in large scale applications, all WTI out-of-band management products include a convenient enterprise management program designed for installation on an administrative PC or work station. Once installed, the enterprise management program can locate and save all compatible WTI out-of-band management units within a user-specified range of IP addresses and add those units to its inventory of discovered devices. This allows a descriptive tag to be assigned to each unit in inventory to quickly identify the location or function of each device for future reference. Administrators can then search the inventory of devices and locate specific out-of-band management units within the inventory in order to ensure that power reboot commands and console port commands are directed to the appropriate unit, rack and installation site. In addition to controlling power switching and reboot functions at multiple units, the enterprise management program also provides a centralized interface that can be to edit user accounts on multiple WTI devices and perform firmware upgrades without the need to individually address each device.
When a server, router or switch located on a remote drilling rig, production platform or mobile operations unit locks up or requires reconfiguration, WTI remote management products can help network administrators to solve the problem without the costs, delays or dangers of a long trip to the middle of nowhere. WTI console servers and switched PDUs allow you to quickly detect, diagnose and correct problems in distant network equipment racks … even if that equipment rack is located in the furthest reaches of the frozen north or on the other side of the world.
Request a free demo
WTI products can be demo'd through any of the following options: