Linux Out-of-Band Console Management
Linux Out-of-Band Console Management
Utilizing an out-of-band serial console server for connection and control of multiple Linux RS-232 console ports located in your data center can be a cost-effective and convenient tool. As the majority of Linux servers are equipped with a serial console port or 'out-of-band' serial terminal port, the connection to these ports when server density is high can be a cumbersome task. A serial console server used as a central point of connection to large populations of serial console ports is helpful and gives you increased command and control of your Linux servers.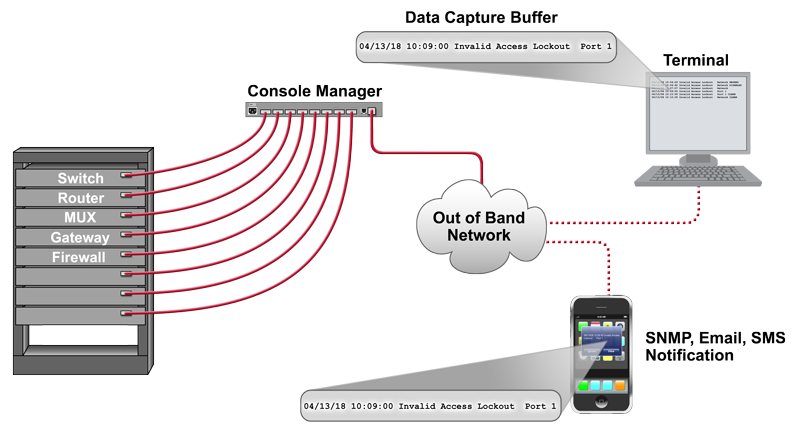 Out of Band Linux Needs
In the Linux environment, there are several out-of-band connection requirements which are somewhat unique from the standard out-of-band management of WAN control elements (routers, switches etc.) In the Linux environment, the enhanced ability to capture terminal screen shots for later review is critical. A serial console server which can record and report all serial data sent during a network downtime period is a valuable tool for post analysis of outage events.
In addition to the ability to capture and review serial data recorded by the console server, network administrators need to be notified when data has been captured and informed of its overall size. If a network administrator needs to have immediate notification (via SNMP, Email or SMS) a full featured serial console server can give the administrator immediate notification regarding which server is generating console error messages, the overall recorded error data size and a time-stamp of the event.
Serial Console Servers & Break Sequences
The ability to pass or 'strip' a control break sequence is also a very important capability of any serial console server used in the Linux environment. There may be specific instances where a control break should never be passed to specific Linux elements, and other situations in which the ability to re-start a Linux server via a break sequence can be a very useful tool for the remote administrator. A serial console server which allows for port-specific treatment of a break sequence (either to allow or no allow) is of great benefit to the Linux administrator.
Command Logging And Linux Serial Consoles
During the serial RS-232 connection to a Linux console port, it may be helpful for an administrator to be able to record keystrokes and commands sent to the Linux console. The retrieval of these recorded keystrokes can be helpful for training purposes or accountability events. In addition, a serial console server which gives the ability to record serial control sessions in local non-volatile memory and send these reports over SYSLOG is a valuable feature.
Multiple Server Groups – One Console Server
In the event of high-density server farms the ability to create 'control groups' of specific console ports is helpful. If the administrative groups who will access these console ports are unique, a serial console server which supports the ability to control group console port rights is necessary. The serial console server should also have basic security features such as 3rd party authentication, encrypted protocols (SSH, SNMPv3) and other highly definable user accounts.
Includes Enterprise Management Software
All WTI console server products include WTI's convenient Enterprise Management Software, which drastically simplifies the task of managing multiple console servers spread throughout your network infrastructure. The WMU Enterprise Management Software provides a centralized command interface that allows administrators to easily manage, label and control multiple WTI console servers in large network applications, reducing the time required to access console port command functions on connected devices.
Summary
The use of a serial console server for Linux serial console connections is a convenient tool. A serial console server deployed in the Linux environment should have some basic features unique to this environment including; user-definable treatment of the control-break sequence, ability to capture and record screen dumps during non-connect periods and provide for comprehensive audit-trail capabilities.
About WTI
WTI is a California based company which designs and manufactures serial console servers and power control units. WTI has over 20 years of development experience in the out-of-band management market. WTI units are deployed in wide area networks in several industry sectors and serve multiple out-of-band management approaches. WTI is committed to the continual technological evolution of out-of-band management tools to help the network administrator save time and increase overall visibility and control of the proliferating number of network elements in the modern data center.
Request a free demo
WTI products can be demo'd through any of the following options: