How to Access Remote Console Ports when your GigE Network is Down
How to Access Remote Console Ports when your GigE Network is Down
Challenge:
The task of restoring network communication with a remote equipment site can either be extremely simple or extremely frustrating. The level of difficulty in dealing with network issues at remote sites is often determined by the ease of access to console port command functions at the site. If remote access to console ports is readily available, then the remedy for a network outage caused by a malfunctioning device at the site is generally simple. But if support personnel at your NOC have no means for remote access to console ports on affected devices at the site, then often the only available solution for addressing problems at the site will involve an expensive, time consuming trip to visit an equipment rack, located halfway to the middle of nowhere.
In order to simplify the process of dealing with outages and minimize downtime, NOC support personnel need a secure, reliable means to gain remote access to console ports on routers, switches, firewalls and other devices at distant network equipment sites. Under normal operating conditions, remote access to console ports is generally a simple proposition. But during a network outage, when communication via primary network might not be available, support personnel need a failsafe solution for console port access that includes redundant, out-of-band avenues for access to remote console ports.
Solution:
When WTI's DSM Series GigE Console Servers are installed at your remote network equipment sites, support personnel can easily access console port command functions, even when primary network communication is down. In the event that an Ethernet switch or router at a remote site crashes and disrupts network communication with the site, NOC personnel can still establish a secure connection to the DSM via secondary network or dial-up and quickly connect to console ports on unresponsive network elements in order to reload routing tables, change configuration parameters or run diagnostic routines.
DSM Series Gigabit Ethernet Console Servers are available with dual 10/100/1000 Ethernet ports plus an optional internal modem. This provides three possible avenues for remote access to console port command functions, ensuring that even in the rare case where both primary and secondary networks fail, your NOC can still gain remote access to console ports on switches, firewalls, routers and other devices via dial-up. These redundant OOB capabilities help to reduce network downtime and cut maintenance costs by eliminating the delays, expenses and hassles associated with truck rolls to remote network equipment sites.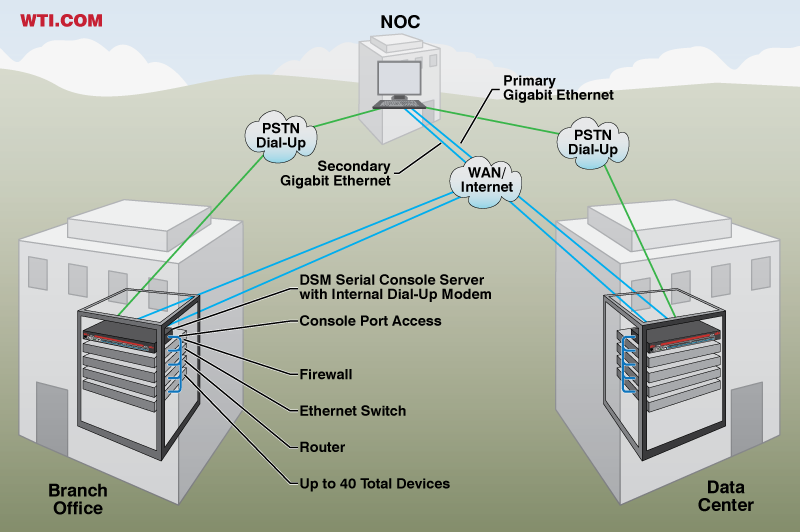 In order to make certain that console port command functions are safely protected from unauthorized access, DSM Series Console servers feature a formidable array of security and authentication functions. A multi-level user directory allows administrators to set passwords, access privileges, dialback numbers and communication capabilities for each user account. Support for state of the art authentication protocols such as Kerberos, TACACS+, RADIUS and LDAP are included to verify the identity of each user before allowing access to console ports and configuration menus. Communication with the DSM is protected by SSHv2 and an embedded, validated FIPS 140-2 cryptographic module plus HTTPS/SSL/TLS Secure Web. Dial-up access to the DSM features password protection, plus a dialback feature that effectively authenticates the identity of each dial-up user.
The DSM also includes WTI's WMU Enterprise Management Software, which simplifies the process of managing multiple WTI devices, spread across a wide network infrastructure. The WMU allows administrators to find and catalog WTI devices within a given IP address range or throughout your corporate network. Once WTI devices such as the DSM console server have been added to the WMU's inventory, NOC personnel can employ the WMU's search functions to quickly locate the specific DSM unit needed to address a problem at a given network equipment site. In addition to streamlining the process of finding specific DSM units on your network, the WMU also provides a single, centralized control interface that can be used to manage multiple WTI units and control firmware updates without the need to individually address each WTI unit.
DSM Series Gigabit Ethernet Console Servers are available in both AC powered and DC powered models and in 8, 24 and 40-port configurations to fit the requirements of a variety of different applications. An extensive five year warranty plus regular firmware updates assures that the DSM will be around to serve your console access needs for years to come.
Results:
When the DSM GigE Console Server is deployed at your remote network equipment sites, support personnel can deal with crashed routers, switches and other devices located at distant branch offices and data centers without even breaking a sweat or leaving their desks. The out-of-band access capabilities provided by the DSM console server help to maximize network uptime and minimize maintenance costs by providing fast, secure, authenticated, remote OOB access to console port command functions on far away network devices. This eliminates the delays, confusion and hassles associated with a physical service call or truck roll and helps to insure that network outages can be effectively addressed immediately and that normal network communication can be restored as soon as possible.
Request a free demo
WTI products can be demo'd through any of the following options: