Free Power Management Demo
Free Power Management Demo
HIGH-DENSITY SWITCHED PDU
For Cisco & Juniper Switches
More Outlets, Less Money

Monitor Power Supplies
Emergency Power Control

Includes Enterprise Management Software
And More...

TRY OUR HIGH-DENSITY PDU TODAY!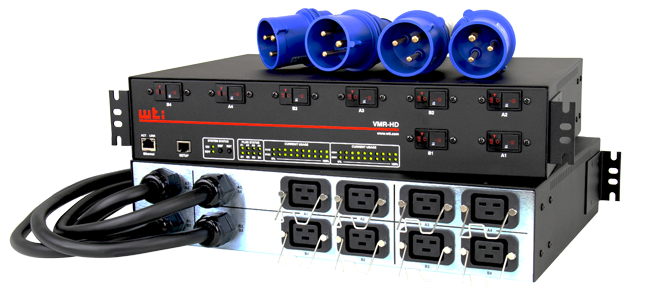 Emergency Power Control
A WTI VMR-HD4D Series PDU can be installed at the rack level to allow remote tech support personnel to quickly and securely reboot or shut down servers and switches. In cases where a server or switch fails to respond or hackers have breached firewalls on your network, the VMR-HD4D provides a secure, reliable means to remotely shut down or reboot devices without the need for an on-site service call.
Remote Power OFF During Security Breaches
Remote On/Off/Reboot Failed Hardware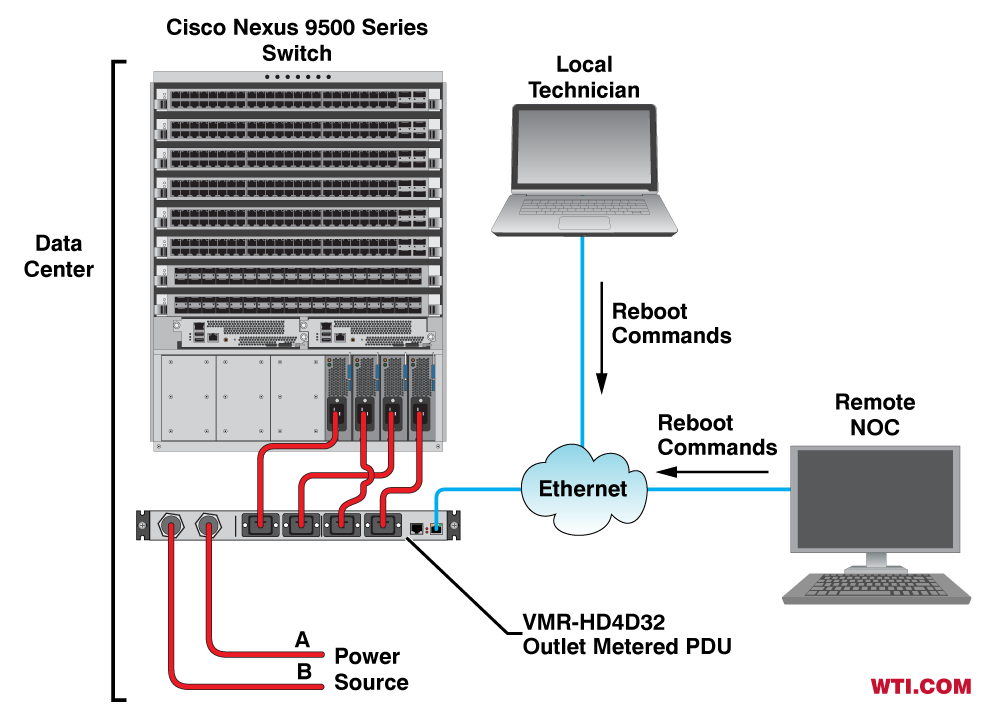 Monitor For Power Supply Failure
The VMR-HD4D can be installed with critical big data servers and meter both voltage and current consumption, allowing administrators to both detect failed power supplies and/or assess power needs for similar installations.
Set High/Low Voltage/Current Threshold Alarms
SNMP, Email & SYSLOG Alarms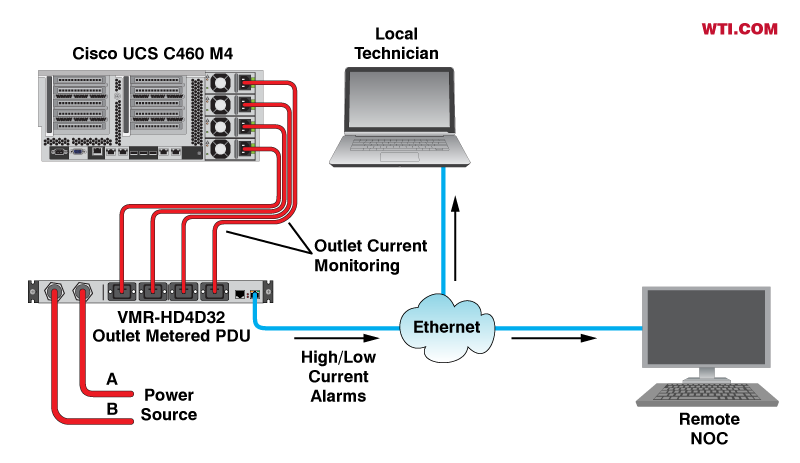 TRY OUR HIGH-DENSITY PDU TODAY!
More Outlets, Less Money
Don't hassle with adding more power drops to your racks when installing UCS, SPARC or other high-density servers. WTI's VMR-HD4D PDU series delivers up to (12) C19 outlets when utilizing as few as (2) power input drops for 2N grid redundancy requirements. Increase capacity without increasing deployment costs by implementing a WTI high-density PDU.
Avoid Additional Power Drops
(4), (8) & (12) Outlet Models
120V & 240V AC Operation with dual or quad 16, 20, 30 and 32 Capacity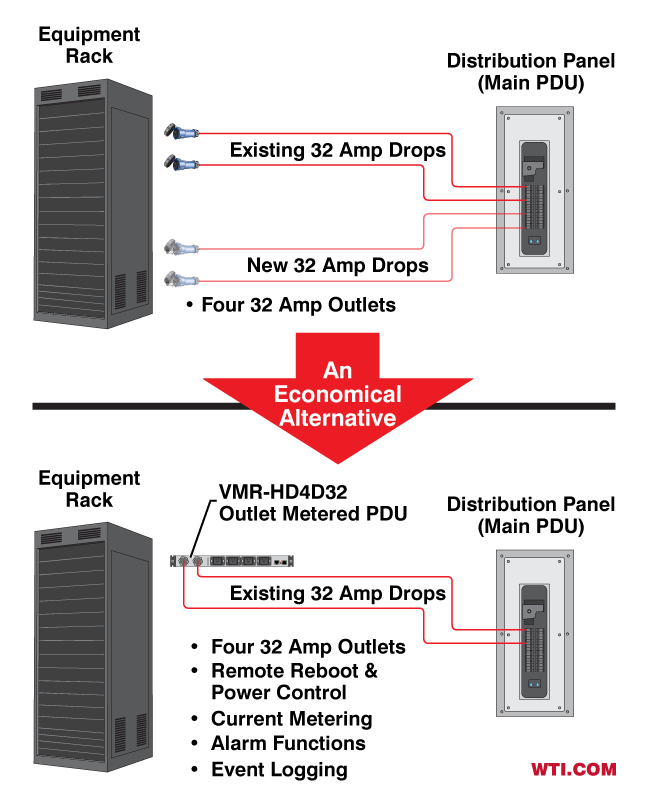 High Amp Power Management
Remote Power Management:
Remote Individual or Group Outlet Switching
On / Off / Reboot / Default / Load Shed Switching
Outlet Sequencing & Power Up Delays
Scheduled On / Off / Reboot Switching
Ping Watchdog with Auto Reboot
Four (4) Switchable IEC C13 Outlets
User-Defined Power-Up Default Status & Outlet Status Retention
Metering / Monitoring / Reporting:
True RMS Current Metering
Outlet and Group Current Metering, Logging and Alarms
Reports kWh, kW, Amps, Volts, Temperature
Plug Current High and Low Alarms
Over-Temperature Alarms
Lost Voltage (Line In) Alarm
Ping-No-Answer Alarm (Failed Ping Command)
Invalid Access Lockout Alarm
Power Cycle Alarm
Circuit Breaker Open Alarm
No Dialtone Alarm
Alarm Notification via Email, SNMP, SYSLOG
In-Band/Out-of-Band Access:
In-Band: 10/100/1000Base-T Ethernet Port
Out-of-Band (External Modem Ready)
Local (RJ45 RS232 SetUp Port)
Supports Both IPv6 and IPv4
Security & Authentication:
HTTPS, SSHv2, SNMPv3
Transport Layer Security (TLS) v1.2
IPSec / OpenVPN
IPtables
Two-Factor Authentication: RSA® Ready
AAA: LDAP / Active Directory / Kerberos / RADIUS / TACACS+
Port-Specific Password Protection
Invalid Access Lockout & Alarm
Unit Management:
RESTful Web Services API
DHCP / FTP / TFTP / SFTP / SCP
CLI & Web-Based GUI
Multiple Concurrent SSHv2 Sessions
Full MIB Support
NTP for True Server Sync
Features:
C19 Power Outlets for High Amp Applications
Power Switch a Full 20 Amp Load
Minimize Truck Rolls and Service Calls
Serial Ports Pinned for Use with Cisco Roll Cable to Simplify Connection to Cisco Devices
Full MIB Support for Diagnosis, Operation and Configuration via SNMP
Secure, Remote, In-Band / Out-of-Band Management - Safe Access to Network Devices
Audit Trail - Log User Access and Command Activity
Alarm/Event Notification - Discover Minor Problems Fast ... And Correct them before they become Big Problems
TRY OUR HIGH-DENSITY PDU TODAY!
Request a free demo
WTI products can be demo'd through any of the following options: