Economical Space-Saving Power Redundancy for Data Centers
An Economical, Space-Saving Power Redundancy Solution for Data Centers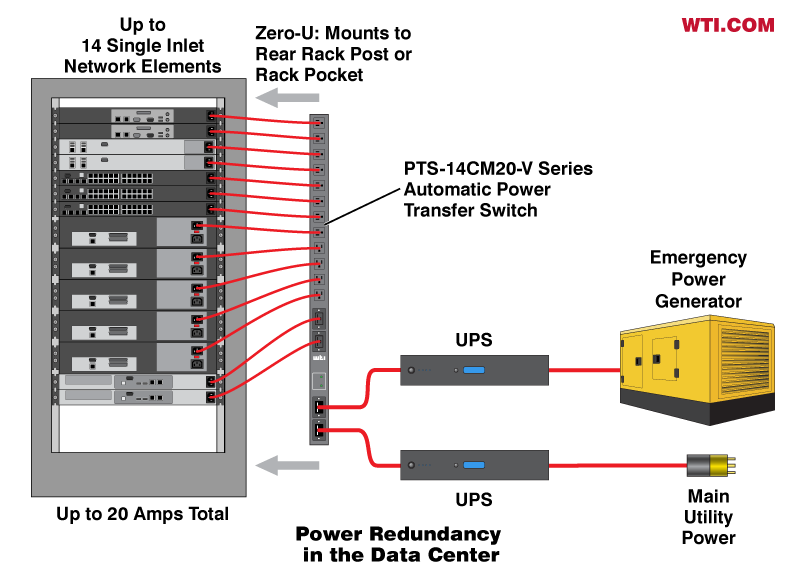 You don't have to visit very many Data Centers before it quickly becomes apparent that no two data centers are exactly alike. Yet despite their many differences, there are two factors that all data centers share in common: the need for an effective power redundancy solution and the need to conserve rack space whenever possible.
Fortunately, WTI's PTS Series Power Transfer Switches can serve both these needs. The vertical format PTS mounts to a rack post or rear rack pocket to provide single inlet network elements with reliable power redundancy without taking up a single unit of valuable rack space.
This allows data center administrators to provide power redundancy to single inlet devices such as servers, routers, firewalls and switches, eliminating the cost and hassles of replacing existing single inlet devices with expensive, new dual power inlet devices.
Effective Power Redundancy for Single Inlet Servers, Routers, Firewalls and Switches
Reliable, Seamless Automatic Power Switching
Continuous Source Monitoring
Robust Out-of-Phase Switching Capability
LED Indicators Show Active Power Source
Easy Installation; No Configuration Required
Vertical Mounting: Zero U Mounting Brackets Included
Available in both 120 and 240 VAC Formats
Typical Switching Time: 8-12ms; 16ms max @ 60 Hz
Twelve IEC C13 Outlets plus Two IEC C19 Outlets
Switch Up to 20 Amps Total (16 Amps De-rated)
In data centers, web hosting facilities, test labs and cloud hosting facilities, an effective power redundancy solution ensures that simple power outages will not interrupt client access to valuable data, services and tools. By eliminating power outages as a possible source of downtime, a power redundancy solution helps to keep both users and customers happy by making certain that the services that they pay for are always available when needed.
WTI's PTS Series Power Transfer Switches take the sting out of the task of implementing an effective power redundancy solution by eliminating the expense and hassles of replacing existing single power inlet devices.
Request a free demo
WTI products can be demo'd through any of the following options: