Console Server for Enterprise SNMP Management
A Console Server for Enterprise SNMP Management Applications
SNMP compatibility is one of the most common features that network administrators look for when selecting network devices. Due to its low cost, widespread availability and ease of use, SNMP has become largely accepted as the industry standard for managing both large and small network applications. The popularity of SNMP as a management tool for both wide area networks and local networks has compelled network engineers to insist that each element in the network infrastructure provides support for SNMP in order to ensure compatibility with SNMP based network management programs.
A WTI Console Server with SNMP compatibility provides a tremendous edge over other console server products that don't support SNMP communication. SNMP compatibility ensures that the WTI Console Server is visible to SNMP based management systems, enables the SNMP management system to collect alarm messages from a number of different WTI Console Servers spread throughout your network and drastically simplifies the process of managing user accounts and access rights across a number of WTI Console Server units.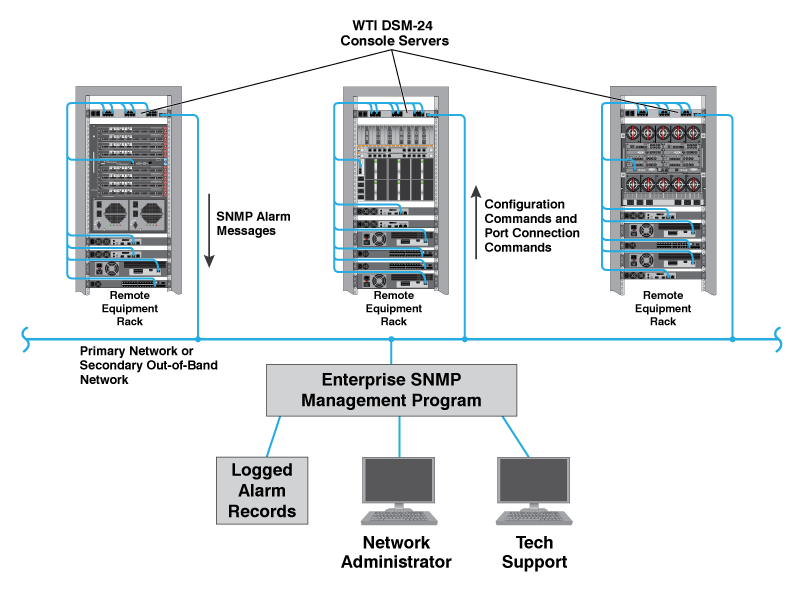 In order to simplify the process of ensuring network health, WTI Console Server products include a comprehensive assortment of alarm functions that can provide immediate notification via SNMP when high rack temperatures, unresponsive devices, excessive invalid access attempts, unstable power supplies, full port buffers, loss of dial tone at an attached external modem and a number of other factors are detected.
In many wide area network applications, the WTI Console Server's ping response alarm is often used to allow network administrators to detect unresponsive network elements at off-site equipment racks without the need to manually check each device in person. Typically, in this type of implementation the ping response alarm is configured to regularly ping devices such as servers, switches and routers, located at specific IP addresses throughout your network and then check to make certain that each IP address responds to the ping command.
When the WTI Console Server determines that a network element at a target IP address has failed to respond to a ping command, an SNMP trap format alarm message is generated and sent to the SNMP management system. These alarm messages are then collected by the SNMP management program, logged for future reference and forwarded to appropriate IT administrators and tech support personnel for further investigation. This essentially allows the WTI Console Server to continually check network health without human intervention, and immediately report when any device in the network has ceased to respond. Logged alarm records can later be used for diagnostic purposes, and often prove useful for detecting device failure patterns that might indicate configuration or performance problems with monitored devices.
WTI Console Servers also simplify the process of managing multiple user accounts on a number of different WTI Console Server units spread throughout a large network. Rather than individually addressing each console server and each user account, SNMP commands can be used to simultaneously edit or delete multiple user accounts on many different WTI units from a single interface; saving both time and money and helping to ensure that user accounts are identically configured for all WTI Console Servers in your application.
In order to ensure secure, encrypted communication and provide compatibility with SNMP based management systems, all WTI Console Servers products support communication via SNMPv3. This helps to make certain that messages, status reports and commands sent to and from the WTI Console Server are safe from unauthorized access.
Although SNMP is generally associated with in-band network management applications, WTI Console Servers can also be used to provide out-of-band SNMP communication with connected devices in cases where the network infrastructure includes a secondary, maintenance network in addition to the primary data network. This provides a means to use SNMP commands to change configuration parameters, send alarm notification or check device status, even when communication via the primary network is down.
SNMP compatibility provides WTI Console Servers with the following advantages:
Ensures Visibility by Enterprise SNMP Management Programs
Enables Enterprise SNMP Management Programs to Collect Alarm Messages from All WTI Console Servers in Your Network
Simplifies the Process of Managing User Accounts and Access Rights at Multiple WTI Console Server Units
WMU Enterprise Management Software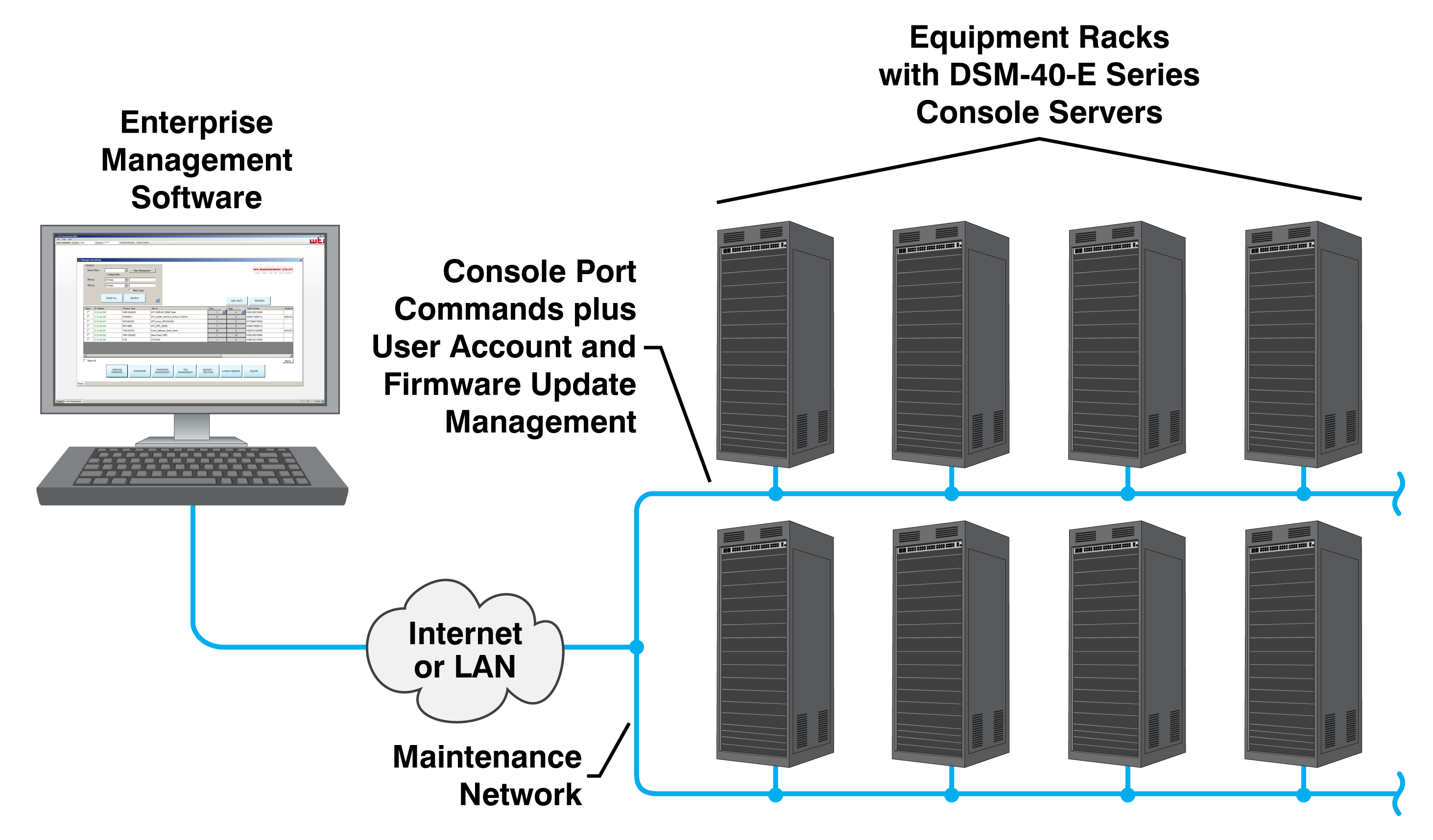 In addition to the SNMP management functions described in this article, all WTI console server products also include WTI's convenient WMU Enterprise Management Software to simplify the task of managing multiple console servers spread throughout a large network infrastructure. The WMU Enterprise Management Software provides a centralized command interface that allows administrators to easily manage, label and control multiple WTI console servers in large network applications, reducing the time required to access console port command functions on connected devices.
Once installed on your PC or laptop, the Enterprise Management Software can search a user-defined IP address range on your network and discover all WTI console servers within the range. Discovered units are then added to the Enterprise Management Software's inventory, allowing administrators to assign a descriptive tag to each console server to denote the location or function of each device. In addition to providing an interface for remote console port access, the Enterprise Management Software can also be used to control firmware updates for WTI products and edit and manage user accounts at individual or multiple WTI console servers.
A WTI DSM Series Console Server with SNMP compatibility provides network administrators with a convenient means to access console port command functions on remote network elements, while also allowing easy integration for applications that include an SNMP based network management system. The versatile alarm and monitoring features found on the WTI DSM Series Console Servers can help network administrators to be kept better informed regarding environmental conditions and important events at remote network equipment racks, without the need to investigate each rack in person. A WTI DSM Series Console Server is the perfect solution for any network application that requires secure, reliable access to console ports on remote network elements, plus user-configurable monitoring and alarm functions and easy compatibility with existing SNMP based network management solutions.
Request a free demo
WTI products can be demo'd through any of the following options: