Secure Console Management for Next-Gen Firewalls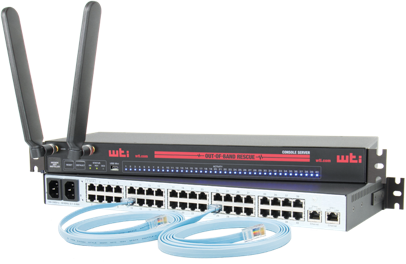 Remotely access and manage console ports on all your security appliances with WTI Out-of-Band console servers.
Log Console Output Using CLI & SYSLOG
Reconfigure & Debug Appliances
Monitor Console Output Strings
4, 8, 24 & 40 Port Models
Integrated Power on Select Models
WTI console servers seamlessly integrate with a variety of next-gen firewall manufacturers such as Cisco, Palo Alto, and Check Point just to name a few. Learn how your network can benefit.

Palo Alto Networks + WTI | Tech Partner Brief
OOB Management for Palo Alto Networks NGFW Appliances
Check Point + WTI | Solutions
Console & Power Management for Check Point Security Gateways
Console access over cellular
When your primary network goes down or you just can't run a hardline to a mountain top, use WTI cellular console servers to access console ports on mission-critical appliances.
Cellular Failover During Outages
Access & Reconfigure DNS Server Settings
Hard Reboot Routers When Local LAN is Disconnected
Request a free demo
WTI products can be demo'd through any of the following options: