Calculate Energy Costs with kWh Reports
Calculate Energy Costs with kWh Reports
The True
$Green$

of the Data Center: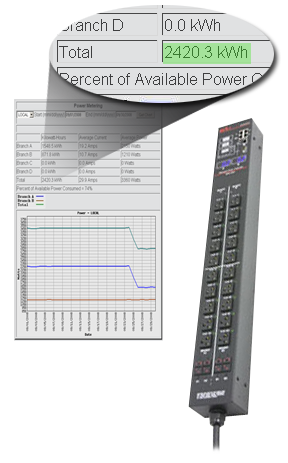 Moving towards a greener data center? For some this means reducing CO2 emissions, but for most it's reducing their utility bill or receiving tax benefits after achieving LEED certification. Let's face it, convincing the bean counters to fund initiatives that will lower operational costs is much easier than getting them excited about reducing the data center's carbon footprint.
With both energy costs and consumption on the rise, there is an ever increasing need to manage expenses related to powering IT equipment. To know just how much your IT equipment contributes to your data center utility bill, use WTI rack mount PDUs to meter and report total kWh energy consumption.
Used in place of an ordinary power strip, a WTI rack mount PDU is an intelligent IP enabled power strip which meters and reports kWh, kW, Amps, Volts and Temperature via local LED, SNMP, IP, Serial RS-232, Web Interface or through any MIB based software. When using WTI rack mount PDUs, administrators can know kilowatt-hour consumption at each rack and branch circuit.
Whether you focus on reducing your carbon footprint or the utility bill, WTI can help you know just how much energy your IT equipment is consuming.
Browse WTI Rack Mount Switched PDUs
Request More Info:
1.800.854.7226
About WTI
WTI is a California based company which designs and manufactures data center power metering devices, serial console servers and power reboot switches. WTI units are deployed in wide area networks in several industry sectors and serve multiple mission critical applications. WTI is committed to the continual technological evolution of remote power management tools to help the network administrator save time and money by keeping devices up and running 24/7/365.
Request a free demo
WTI products can be demo'd through any of the following options: